Game Description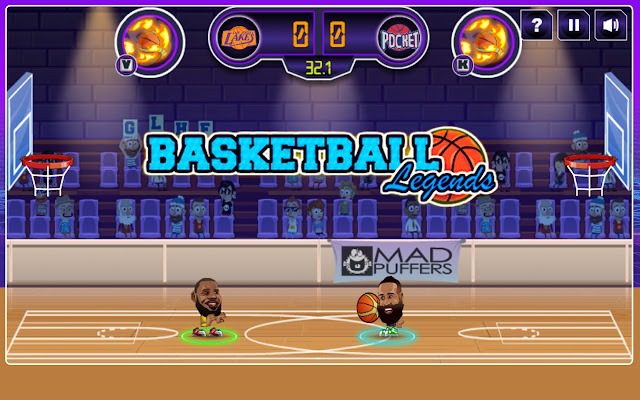 Basketball Legends is an exciting online basketball game that offers a unique and entertaining basketball experience. Developed by MadPuffers, this game combines fast-paced gameplay with a touch of fantasy by featuring famous basketball legends and superheroes.
Game Controls
Understanding the controls is essential to become a true legend on the virtual basketball court. Here are the basic controls for Basketball Legends:
Player 1 Controls:

Move: Arrow keys
Jump: Up arrow
Dunk/Shoot: Z
Pass/Superpower: X

Player 2 Controls:

Move: WASD
Jump: W
Dunk/Shoot: K
Pass/Superpower: L

Pause/Menu: P
How to Play Basketball Legends
Basketball Legends offers various game modes and options, but the core gameplay is centered around one-on-one basketball matches. Here's how to play:
Select Your Player: Choose your favorite basketball legend or superhero. Each character has unique abilities and skills, so pick one that suits your playstyle.
Game Modes:

Tournament Mode: Compete in a series of matches to win the championship.
Quick Match: Jump right into a single game against the computer or a friend.
Practice: Hone your skills and learn the controls.

Objective: The main goal is to outscore your opponent by making baskets while preventing them from scoring.
Special Moves: Discover each player's unique special moves and superpowers, which can be used to gain an advantage over your opponent.
Defense: Don't neglect defense. Time your blocks and steals to thwart your opponent's shots and passes.
Tips and Tricks
To become a basketball legend in the game, consider these tips:
Learn Character Abilities: Master your character's special moves and superpowers to gain the upper hand.
Practice Makes Perfect: Spend time in the practice mode to improve your dribbling, shooting, and defensive skills.
Play Defense: Effective defense is crucial. Time your jumps and blocks to prevent your opponent from scoring.
Pass the Ball: Use passing to set up open shots or surprise your opponent with teamwork.
Utilize Superpowers: Save your superpower for the right moment to turn the game in your favor.
Game Developer
Basketball Legends was developed by MadPuffers, a game development studio known for creating fun and addictive online games.
Game Platforms
Mobile Devices: Download the game on iOS and Android devices to play on the go.
How to Play Unblocked
Playing Basketball Legends unblocked is easy. Since the game is available online, you can access it on most school or workplace networks without any issues. Simply visit a gaming website that hosts the unblocked version of the game, and you'll be shooting hoops in no time. Just make sure you have permission to access gaming websites if you're playing at school or work, and be mindful of any network restrictions in place.