Game Description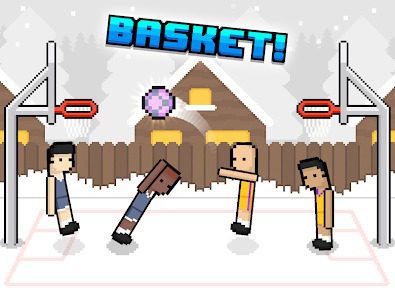 Basket Random is a fast-paced and chaotic basketball game that combines the excitement of basketball with unpredictable and humorous gameplay. Developed by MadPuffers, this game offers a unique twist on traditional basketball by introducing quirky and unconventional elements. Challenge your friends or the AI in this unpredictable basketball showdown filled with surprises and laughter.
Game Controls
Get ready to shoot some hoops with these simple controls:
Player 1 (Left):

Move Left: Left Arrow Key
Move Right: Right Arrow Key
Jump: Up Arrow Key

Player 2 (Right):

Move Left: A Key
Move Right: D Key
Jump: W Key
How to Play Basket Random
Experience the randomness of Basket Random with these gameplay instructions:
Choose Your Team
Start by selecting your team. You can play against a friend or the AI.
Get Ready for Chaos
Enter the basketball court, where chaos reigns supreme. The game introduces unexpected elements and obstacles that make each match unpredictable.
Score Points
Your goal is simple: score points by shooting the basketball into your opponent's hoop. Keep an eye on the constantly changing game environment.
Adapt to the Randomness
Be prepared for surprise events during the match, such as giant basketballs, slippery floors, and more. Adapt quickly to these changes to gain an advantage.
Win the Match
The team that scores the most points by the end of the match wins. Keep your wits about you as you navigate the unpredictable basketball court.
Tips and Tricks
Embrace the chaos of Basket Random with these tips:
Stay Alert: Pay close attention to the changing game environment. What starts as a conventional basketball match can quickly turn into a wild and unpredictable experience.
Teamwork: If you're playing with a friend, coordinate your moves and strategies to outsmart your opponent, even in the midst of chaos.
Practice Makes Perfect: Don't be discouraged by the randomness. With practice, you can learn to adapt to the ever-changing conditions of the game.
Game Developer
Basket Random was developed by MadPuffers, a game developer known for creating fun and addictive online games.
Game Platforms
You can enjoy the chaos of Basket Random on the following platform:
Web Browser: Play the game directly in your web browser without any downloads or installations.
Mobile Devices: Download the game on iOS and Android devices to play on the go.
How to Play Unblocked
To play Basket Random unblocked and enjoy the unpredictable basketball madness without restrictions, follow these steps:
Check School or Work Restrictions: Ensure that your school or workplace doesn't have strict internet restrictions or content filters that might block gaming websites.
Visit Official Game Websites: Access the official website or authorized gaming platforms associated with Basket Random to play freely.
Embrace the Chaos: Once you've entered the world of Basket Random, be ready for anything and embrace the randomness of the game for a hilarious and entertaining experience.
In summary, Basket Random offers a refreshing and unpredictable take on traditional basketball. With its humorous and chaotic gameplay, it's a game that guarantees laughter and excitement as you compete against friends or the AI in a world of basketball randomness.