Game Description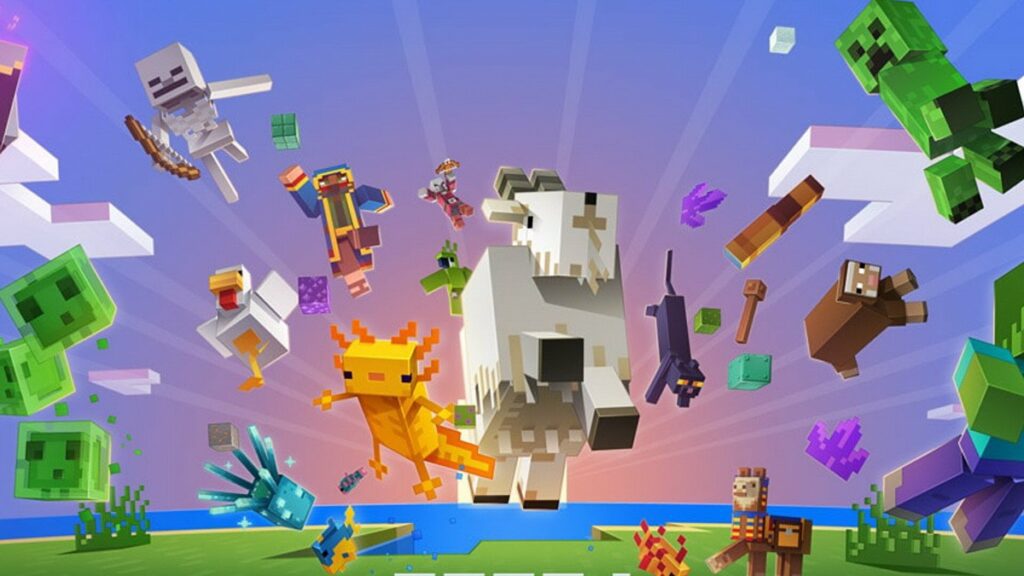 Minecraft is a sandbox adventure game that has taken the gaming world by storm. Created by Markus Persson and later acquired by Mojang Studios, it offers players a limitless, procedurally generated world to explore, build, and survive in. Whether you're mining deep underground, crafting elaborate structures, or facing off against blocky monsters, Minecraft lets you unleash your creativity and imagination.
Game Controls
Embark on your journey in Minecraft using these essential controls:
W, A, S, D Keys: Move your character forward, backward, left, and right.
Spacebar: Jump or swim upward when submerged in water.
Shift Key: Sneak or crouch, reducing your height to fit in smaller spaces.
E Key: Open your inventory to manage items and crafting.
Left Mouse Button: Interact with objects, mine blocks, and attack.
Right Mouse Button: Use the right mouse button to place blocks, use items, and eat food.
1-9 Number Keys: Access quick slots for items in your hotbar.
How to Play Minecraft
Embark on your epic adventure in Minecraft with these steps:
Explore the World
Start by exploring the vast, open world of Minecraft. The world is procedurally generated and filled with diverse biomes, caves, and structures.
Gather Resources
Begin collecting resources by mining blocks. Use your fists to start, but eventually, craft tools like pickaxes, shovels, and axes to gather resources more efficiently.
Build and Craft
Use the resources you collect to craft tools, weapons, and various items. Construct buildings, fortresses, and elaborate structures to create your own unique world.
Survive and Thrive
As day turns to night, hostile mobs like zombies and skeletons emerge. Build shelters, light your surroundings, and arm yourself to survive the night.
Face Challenges
Delve into the depths of caves and dungeons to uncover rare resources, but beware of traps and powerful monsters that lurk below.
Multiplayer Adventures
Join multiplayer servers to collaborate with friends or engage in exciting player-versus-player (PvP) battles.
Customize Your World
Utilize mods and resource packs to enhance your gameplay and customize the appearance of your world.
Tips and Tricks
Master the art of Minecraft with these expert tips:
Mine Efficiently: Dig in a staircase pattern when mining to maximize resource collection while minimizing risks.
Build Safe Havens: Construct secure shelters to protect yourself from hostile mobs during the night.
Craft Wisely: Use crafting recipes to create essential tools, weapons, and armor to aid your survival.
Experiment with Redstone: Dive into the world of Redstone to create complex contraptions, traps, and automated systems.
Enchant and Brew: Unlock the power of enchantments and brewing to enhance your gear and abilities.
Game Developer
Minecraft was originally created by Markus Persson, also known as "Notch." Mojang Studios, later acquired by Microsoft, continued the game's development.
Game Platforms
Embark on your Minecraft adventures on the following platforms:
PC: Play the Java Edition on Windows, macOS, or Linux.
Console: Enjoy the game on various consoles, including Xbox, PlayStation, and Nintendo Switch.
Mobile: Play on iOS and Android devices.
How to Play Unblocked
To play Minecraft unblocked, follow these steps:
Check School or Work Restrictions: Ensure that your school or workplace doesn't have strict internet restrictions or content filters that might block gaming websites.
Visit Official Game Websites: Access the official Minecraft website or authorized platforms to play the game unblocked.
Internet Connection: Ensure a stable internet connection to enjoy seamless gameplay.
In summary, Minecraft offers a limitless world of creativity, exploration, and adventure. Whether you're a builder, explorer, or survivor, this game provides endless possibilities for players to shape their own blocky worlds and embark on unforgettable journeys.