Game Description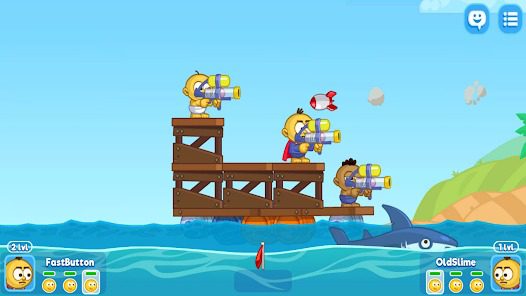 Raft Wars 2 is a fun and engaging online shooting game developed by Martijn Kunst. In this sequel to the popular Raft Wars game, you join the dynamic duo, Simon and his brother, in their quest for adventure and treasure. Help them defend their treasure against pirates and other foes by aiming, shooting, and strategizing your way to victory. With a mix of action, humor, and clever gameplay, Raft Wars 2 offers hours of entertainment.
Game Controls
Prepare for epic battles on the high seas with these simple controls:
Mouse: Aim your weapon by moving the mouse cursor.
Left Mouse Button: Click to fire your weapon.
1-9 Number Keys: Switch between different weapons in your arsenal.
How to Play Raft Wars 2
Embark on your treasure-hunting journey in Raft Wars 2 with these steps:
Choose Your Character
Begin by selecting one of the two characters, Simon or his brother. Each has unique abilities and personalities.
Customize Your Raft
Use the coins you earn from battles to upgrade your raft's attributes, such as speed and firepower.
Battle Enemies
Engage in turn-based battles with a variety of enemies, including pirates and other treasure seekers. Take turns with your opponents to aim and fire.
Aim Strategically
Carefully aim your shots to hit your enemies. Consider the angle, power, and trajectory to maximize accuracy.
Utilize Special Weapons
As you progress, unlock and use special weapons with different abilities to gain an advantage.
Defend Your Treasure
Protect your treasure chest at all costs. If your opponents steal it, you'll need to reclaim it in later levels.
Complete Levels
Progress through a series of increasingly challenging levels, each with its own unique enemies and obstacles.
Tips and Tricks
Become a master treasure defender with these helpful tips:
Upgrade Wisely: Invest in raft upgrades strategically to enhance your chances of victory.
Consider Bounce Shots: Use the terrain to your advantage by making shots bounce off surfaces to hit hidden enemies.
Master Special Weapons: Learn how to use each special weapon effectively to turn the tide of battle.
Aim for Headshots: Hitting enemies in the head inflicts extra damage, so aim high when possible.
Game Developer
Raft Wars 2 was developed by Martijn Kunst, a game developer known for creating entertaining and addictive browser games.
Game Platforms
You can enjoy the treasure-hunting action of Raft Wars 2 on the following platform:
Web Browser: Play the game directly in your web browser without the need for downloads or installations.
Mobile Devices: Download the game on iOS and Android devices to play on the go.
How to Play Unblocked
To play Raft Wars 2 unblocked, follow these steps:
Check School or Work Restrictions: Ensure that your school or workplace doesn't have strict internet restrictions or content filters that might block gaming websites.
Visit Official Game Websites: Access the official Raft Wars 2 website or authorized gaming platforms to enjoy the unblocked version of the game.
Ensure Internet Connectivity: Maintain a stable internet connection to enjoy uninterrupted battles and treasure hunting.
In summary, Raft Wars 2 combines fun and strategy in a delightful adventure where you defend your treasure against all odds. With its engaging gameplay, entertaining characters, and challenging battles, it's a game that promises excitement and laughter as you aim, shoot, and conquer the high seas.